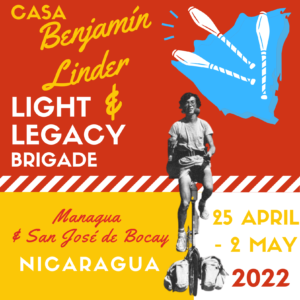 CASA BENJAMIN LINDER:
LIGHT & LEGACY BRIGADE
Where: Managua & San José de Bocay, Nicaragua
When:25 April-2 May 2022
Cost: $75 per person/per day all-inclusive 9-day brigade. Total cost: $675 per person*
To apply:Write to casabenjaminlinder@gmail.com
Application deadline: 25 March 2022
Description:
40 years ago as a young juggler, unicyclist & electrical engineer, Ben Linder came from the U.S. to Nicaragua to install rural hydroelectric systems in villages in the war zones with no electricity. He and other international volunteers who came to support the Sandinista Revolution became targets for the U.S.-funded Contras. Ben and his colleagues installed a hydro system in El Cúa and were working on another system in San José de Bocay. On April 28, 1987, Ben and two Nicaraguans with him were ambushed and murdered by the Contra.Over the past 15 years, the Sandinista government has extended the electrical grid from 54% to 99% coverage nationwide, and today 80% of the energy Nicaragua produces is renewable.
Over nine days in-country, the Light & Legacy Brigade will learn what the areas where Ben worked are like in the Nicaragua of today: electricity projects, renewable energy policy, community circus culture,and the lives of the performers who worked with Ben in Managua.
Join us to study& commemorate Ben's renewable energy & cultural legacy on the 35th anniversary of his murder.
Brigade Activities:
Visit geothermal & solar projects
Attend Juggling Festival
Visit Ben Linder's hydroelectric projects
Participate in Community Circus
Talk with communities newly connected to the grid
Learn about Nicaragua's current struggles & triumphs
Commemorate anniversary of Ben's murder with the communities where he lived
Casa Benjamin Linder is a solidarity cultural center and education project of the Jubilee House Community and the Center for Development in Central America. Since 1994 the JHC-CDCA has worked in sustainable community development in Ciudad Sandino.
For more information:
jhc-cdca.org
casabenjaminlinder.org/tours
*Includes all in-country costs: meals, hotels, translation, and entrance fees. Airfare and COVID tests are separate.